截止日期:

2018年1月20日




(延期至 2018年4月20日)

录用通知:

投稿后20-40天

论文出版:

收到最终稿后30-60天

会议日期:

2018年5月29-31日
会议接受英文和中文文章

huiyi123公众号

huiyi123微信客服
ICEECS2018演讲嘉宾信息如下: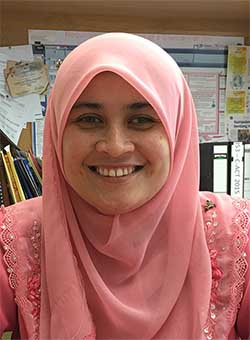 Dr. Massila Kamalrudin, Associate Professor
Institute of Technology Management and Entrepreneurship, Universiti Teknikal Malaysia Melaka, Malaysia
Biography: Dr. Massila Kamalrudin is an associate professor of Software Engineering Department of UTeM and a group leader of Innovative Software System & Services Group. Currently, Dr Massila is a deputy dean of Institute of Technology Mangement and Entrepreneurship, managing the trans-disciplinary program and research. Her first degree was Computer Science majoring in Software Engineering from Universiti Putra Malaysia in 2003, then completed her MSc in Computing and Software Technology in 2006 from University of Wales, Swansea. In 2011 she gained her PhD from University of Auckland, New Zealand in the area of Requirements Engineering within 3 years and did a post-doctorate study at Swinburne University of Technology, Melbourne, Australia. She is a member of IEEE and Malaysia Software Engineering Group (MYSEIG). Her main interests of research are requirements engineering, global software development and software tool and methodology. She has written many reputable peer-reviewed journals and IEEE/ACM papers proceedings in the area of requirements engineering and automated software engineering.
Topic: Generating Abstract Test for Requirements Validation
Abstract: Getting the best quality requirements is often considered to be difficult, time consuming and error prone. Further, validating the software application to meet those requirements usually costs up to 40% to 60% of the software budget. Motivated from this, we developed a lightweight approach that adopts requirements-based testing methodology for validating requirements captured from clients-stakeholder. This approach can automatically generate abstract test from semi-formalised model: Essential Use Cases (EUCs) and Essential User Interface (EUI). To do this, an automated tool support called TestMEReq is also developed. We conducted a case study with an industry and their feedback was collected to evaluate the effectiveness of our approach. We also conducted interview with experts from IT/software industry to evaluate further the usability of the approach. The results prove that our approach helps to reduce effort in validating requirements, easy to use and helps the requirement engineers to gain fast and more accurate feedback from client-stakeholder.
© 2016-2018第三届电子工程与计算机科学国际会议 版权所有