The information about the Keynote Speakers of ICEECS2016 is as follows, which will be updated regularly.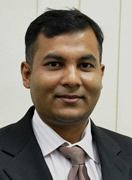 Dr. Mohammad A Matin
Department of Electrical and Electronic Engineering, Institut Teknologi Brunei (ITB), Brunei Darussalam
Biography: Dr. Mohammad A Matin currently works at the department of EEE, Institut Teknologi Brunei (ITB), Brunei Darussalam as an Associate Professor. Before joining ITB, he was with the department of EECS, North South University as an Associate Professor. He obtained his BSc. degree in EEE from BUET (Bangladesh), MSc degree from Loughborough University, UK and PhD degree from Newcastle University, UK. He has taught several courses in communications, electronics and signal processing at KUET, Khulna University, and BRAC University during his career. Dr. Matin was a visiting academic staff at UKM (Malaysia), UM (Malaysia) and so on. He has published over 80 refereed journals and conference papers. He is the author of 10 academic books and 10 book chapters. He has presented invited talks in Bangladesh, and Malaysia and has served as a member of TPC for more than 50 international conferences. He also serves as a referee of a few renowned journals, keynote speaker and technical session chair of few international conferences. He currently serves as a member of editorial board of several international journals such as IET-WSS (IET UK), JECE (Hindawi Publishing) and so on. He served as a counselor of IEEE NSU (2008-2011), and secretary of IEEE Communication Society, Bangladesh Chapter (2010-2011). He has received a number of prizes and scholarships including the Best student prize, Commonwealth Scholarship and Overseas Research Scholarship (ORS). His current research interests include UWB communication, wireless sensor networks, cognitive radio, EM modeling, and antenna engineering.
Topic: Research towards 5G Cellular Networks
Abstract: Today 4G mobile systems are migrated to an all IP-based wireless connectivity for diverse applications and open the door to new converged multimedia services. However, the growing demand of data traffic among mobile devices with the emergence of various high-speed multimedia services put an increasing strain on cellular networks. To assure this demand, the future 5G network will provide the fundamental infrastructure for billions of new devices such as Internet of Things (IoT), vehicle-to-vehicle (V2V) communications or wearable devices. Hence, three technologies have been identified: millimeter-wave (mmWave) mobile broadband, massive MIMO and heterogeneous and small cell networks (HetSNets) that could accomplish the above goal. In terms of network architecture, cloud radio access network (CRAN) has emerged as the most promising architectural alternative to enable energy efficient network operation and possible cost savings on baseband resources. Furthermore, it improves network capacity. In this talk, the speaker will address the propagation features of mmWave communication and the associated impacts on 5G cellular networks.